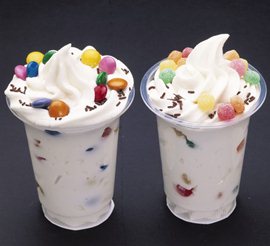 Maximum flavor. More profit. Explore Flavor Systems.
Mix in and/or infuse flavors that create... Electro Freeze offers the ultimate solution to increasing your profits without huge investments in equipment.
Mix in cookies, candies, fruits with your soft-serve ice cream or yogurt with the original flavor blender… The Arctic Swirl®.
Let your customers fuse their flavors with our newest offering the Fuzion32 flavoring system. Offer your customers the delicious flavors and unbelievable candy combinations your competition can't dream of having. Imagine offering peanut butter soft serve with peanut butter cups mixed in!! How about cookies and cream soft serve with real cookies blended in. Or just keep it simple with delicious flavors like blueberry, banana, pistachio, or cheesecake. Flavors of soft serve ice cream or custard, yogurt, shakes, slush and arctic swirls. Mix in candies! The possibilities are truly endless with the Fuzion32.